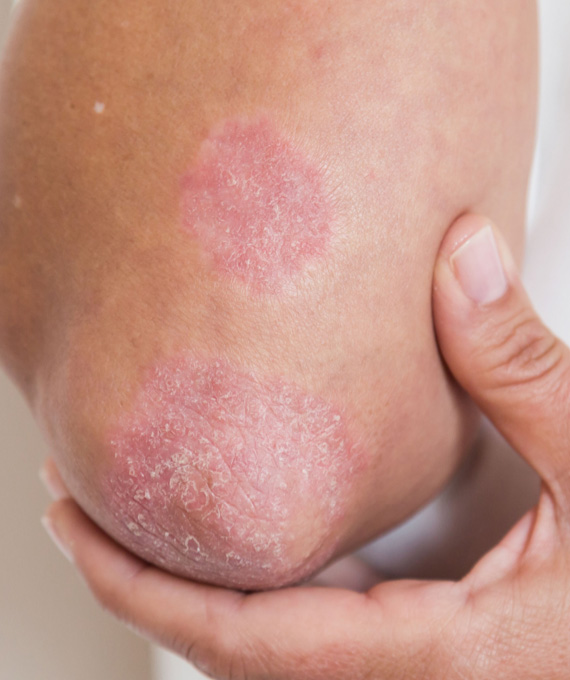 UNIQUENESS OF THIS HERBAL OIL AND ITS APPLICATION
This unique herbal oil is made out of natural medicinal flowers, leaves and other herbs and is meant for external application only which will not have any side effects (Kindly note that this oil is not made out of Wrightia Tinctoria ie "Vettupala"). This oil has got a pleasant smell and it is non sticky and it absorbs in the body in no time.
Clinical Trial shows that it is quite effective in controlling all types of psoriasis such as Plaque Psoriasis, Guttate Psoriasis, Scalp Psoriasis, Inverse Psoriasis, and Psoriatic Arthritis etc.
Application
Take 15ml to 20ml oil and apply over the affected parts of the body including your head and face and after 1 hour, you should take bath in cold water (it is better to apply all over your body), Just massage lightly. (Arthritis patients who use hot water can continue taking bath in hot water) You should take bath altease twice a day. Soap should not be used. Instead Moong or Chenna powder can be used if necessary. Applicaion should be restricted only once in a day and excess oil should not be used, anticipating for a fast recovery. Curing will take its own time depending upon the Constitution of the body. If itching is more, put salt powder in a buketful of water and pour it all over your body. After a minute or two you can towel.
Duration of application
Patients should use this oil atleast for a period of six months and should continue if necessary depending upon the duration of the Ps. suffering. If the patient is not getting any result even after six months of application, he can discontinue it as he or she comes under the 30% catefory. This depends upon the body constitution of the particular patient. Normally it is found that 70% of the patients were getting excellent result.
Dietary Regulation
For the first six months you should take only vegetarian food. Take raw vegetables, fresh juices Carrot and amla (Gooseberry). All types of intoxicants should be avoided.
Tea or coffee can be consumed which should be restricted to two in the morning and evening respectively.
As far as possible avoid bakery items and all types of food that gives you constipation. Be cheerful and self confident. Relax into your being and try to sleep atleast 7 hours a day. Patients should continue balance diet as mentioned above even after recovery.
Note
It is observed that in some patients, within two weeks of application of this herbal oil, their Psoriatic Conditions aggravates and in certain cases it spreads to other unaffected areas and scaling will be rapid. But patients should not get panicky and should continue application of this oil. In fact this is a positive sign of recovery.
Patients are also advised to discontinue all types of medicines that they are taking for the cure of Psoriasis once they start using this unique herbal oil.
If the patients have relapse they will get the cure again after application of this herbal oil.
It is also observed in certain cases that curative period extends further from the normal 6 months period for those patients who have taken neotrixate / methotrexate drugs.
Application of Herbal Oil
Patients should apply this oil on the affected parts and remain for about one hour either before bath or even after bath.
What I have noticed after sharing my experience with that of 600 Psoriasis patients is that all of them were taken for a ride by some unscrupulous medical practitioners promising that they can cure psoriasis. Some patients were given internal medicine continuously for 6 months, which aggravated the condition, and even their limbs became stiff and curved. This has happened even to a patient who took treatment from his own father, a traditional Sidha/Ayurveda Practitioner.

I strongly believe that Psoriasis patients should not take internal medicines continuously and instead they should lead a disciplined life by avoiding intoxicants and meat as well as all types of foodstuffs, which leads to constipation so that they will be able to contain Psoriasis to a certain extent.

Patients should also take bath in cold water at least twice in a day and if they feel itchy, they can put some salt in a bucketful of water and pour it over their body. After a minute or two they can towel. Most of the patients are getting relief by doing this.
Of course I am not an authority to pass a judgment like this but my observation is based on my own experience as a patient. Besides, after interacting with more than 600 Psoriasis patients during the past 7 years who have all undergone treatment under various systems of medicines, (some of them ranging from 15-20 years) has convinced me beyond any doubt about the futility of taking medicines internally.

Hence patients should be very careful and should not be carried away by wild promises given by certain Medical Practitioners. Before concluding this article, I would like to state categorically that Psoriasis is not at all a contagious disease and hence should co-operate with patients so that patients will not lose their morale.

I had discussions with Dr Paul Sinco a Practicing Doctor based at California who confirmed to me that since my Herbal Oil is found to be effective among the patients from tropical countries this will be effective for the patients from US, Russia and Europe also.
Recently i.e., on 24th may 2001, I have given herbal oil to an American lady who is suffering from psoriasis from 1994 and I will be able to see her progress as she is camping now in Kerala. I met this lady again on 27th June and noticed that her Ps marks on her face were slowly disappearing and the black colour of the skin is also thinning.
Please note that psoriasis is spreading through the world at an alarming rate and even in a small country like Sweden there are 2 lakhs psoriasis patients and this information I got it from the web site of The Swedish Psoriasis Association. (http://www.pso.se)

There are over 6 million people suffering from psoriasis in North America, and up to 2,50,000 new cases are diagnosed every year. Current systemic treatments for psoriasis have significant side effects, which may result in the discontinuation of the treatment. The overall cost of treating psoriasis in the U.S. is estimated at between US $3 to $5 billion per year.
PS: Relapse
I would like to record that I had a relapse of psoriasis after 1 year 3 months and this time the attack was severe.
I took up an assignment as Marketing Consultant with a Medical Transcription Company during September 2000 and I had to visit Hyderabad in the winter month of December for negotiating with a US team for Medical Transcription Project work.
Psoriasis developed on the Elbows and Knees from November onwards and while I was in Hyderabad, Psoriasis developed on both my legs, which spread gradually throughout my body including my forehead and behind the ears. I could not even walk properly and I found it very difficult to bend my Elbows and Joints.
Infact I was not applying Herbal Oil by remaining for about one hour, which was my practise during my earlier period that is, June 2000 and in between I, took non-vegetarian food also.
However, with the relapse which came in the winter, I started using my Herbal Oil regularly and as usual nothing happened for the first one month but after one month scaling started rapidly, plaques were softened and now I am on the road to complete recovery. I have taken my photographs on 7th February 2001, 2ndApril 2001 and 1st June 2001 for my record (Please Click Here For The Progress Photos).
I had relapse again during the summer season from March 2002 onwards which subsided completely on application of this oil, by July 2002.

I would like to record that I did not have relapse again as on date that is 3rd November 2003 as I have been applying oil continuously as advised by my Consulting Physician Dr. K.P. Sreekumari Amma.
I am quite convinced beyond any doubt as per my own experience the efficacy of my Herbal Oil for the treatment of Psoriasis.
As on date (9th April 2001) 80patients have undergone treatment using my Herbal Oil and 80% of them are getting relief.